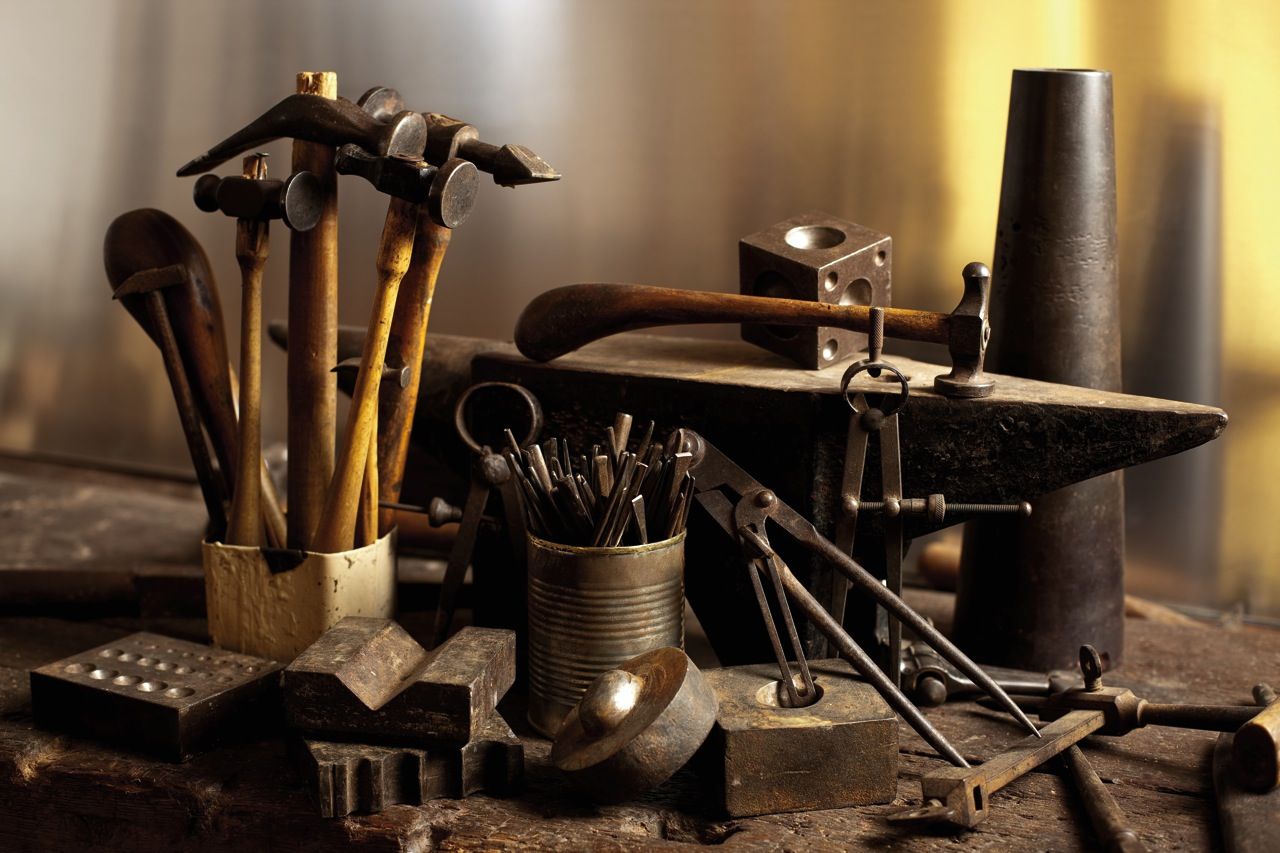 Glossary of Silver & Jewelry Making
Alloy
Mixing a base metal (such as copper) with a precious metal (such as silver) to improve its working properties. Fine silver (.999) is too soft and subject to wear to be of utility, it is allowed with small amounts of copper and other metals to increase its durability.
Argyle
A gravy server consisting of an interior well for holding gravy and a hollow outer casing for holding hot water to keep the gravy warm.
Baluster
A 3-dimensional turned object of alternating concave and convex forms. The form was often used for the outer shapes of hollowware.
Beading
Linear ornamentation formed by adjacent spheres.
Bombe
A bulbous, outwardly curved form.
Bruise
An accidental indentation or dent to silver.
Burin
An engraving tool.
Cartouche
A blank area that is reserved for engraving. Sometimes referred to as the reserve.
Chasing
Raising and shaping silver by scoring and hammering to create decoration. Unlike engraving, no metal is removed in the process.
Coaster
Shallow sided circular dish for holding a bottle of wine, decanter, or glass.
Cut-card work
Solder application of decorative pieces of silver to flat silver to add ornamentation.
Die cutting
An industrial technique where a die pattern is created in steel. This steel die is used to stamp out identical articles of a softer metal.
Emboss
The decoration by pressure by dies, stamps, or punches from the reverse creating a raised pattern.
Engraving
Decorating by scraping or cutting material to create a design.
Filigree
A technique of curling, twisting, or plating pliable cables of metal, and soldering them at their points of contact to create a design.
Flatware
Diningware used at the table.
Floreated
Decorated with a floral ornament.
Foliated
Decorated with a leafy ornament.
Frosted silver
Decorative technique to create a contrasting layer of pure silver on the surface of sterling silver.
Gilded
Thin surface coating of gold.
Hallmark
An official marking made by a trusted party on items made of precious metals that guarantees a certain purity of the metal.
Holloware
The term indicating a vessel, generally for domestic and culinary use.
Intaglio mark
A mark made in cameo style to create an image or letters in relief. The symbols or letters appear to be raised above the surface.
Latticed
Decorative technique consisting of a series of diagonal crossbars.
Maker's mark
The proprietary mark of the individual silversmith.
Mounts
Raised decorative or structural elements, made separately and soldered onto an object. These can include legs, feet, finials, and handles.
Patina
Changes to the surface layer of an object resulting from natural aging and use.
Piercing
Decorative technique where parts of the metal are cut away by hand and refined to form a pierced pattern.
Pricked work
Decorative technique where a series of dots are punched into the surface of an object to create initials, dates, or designs.
Rococo
Decoration using flowers, shells, and swags in the naturalistic style.
Silverplate
Objects that are plated to resemble genuine silver.
Soldering
Technique of joining metal parts by using a silver alloy, flux, and high heat.
Sterling
A standard of silver defined by law as 925 parts pure silver in a 1000.
Tempering
Heating of steel to specific high temperatures to strengthen it.
Annealing
The process of heating silver between hammering, pressing, or rolling. The compressions makes the silver brittle and the heating restores its molecular structure to its prestressed state.
Armorial
A decoration depicting a family crest, coat-of-arms, or motto.
Baroque
A period in western architecture from ca. 1600 to the middle of the 18th century known for its abundance of decoration.
Bezel
A solid or pierced metal band soldered on edge to a backing and bent inward to secure a stone.
Bright cut
A type of engraved decoration produced by short, deeply angled cuts to produce highly reflective lines.
Candelabrum
A multi-light candlestick.
Cast
A technique for producing a solid decorative motif or form in silver from a mold, thereby allowing production in mass.
Chenier
Tubular silver used in the making of hinges.
Crosshatching
Engraving term for crossing lines either straight or diagonal.
Damascene
The process of applying one metal onto a base metal. This is usually done by hammering into scored groves. Named from the city of Damascus.
Egg and dart
The decoration of alternating arrow shaped and oval motifs.
Enamel
The colorful result of fusing powdered glass to a substrate by firing the powdered glass until it melts and flows and then hardens to a smooth, durable coating.
Feather-edge
Finely engraved decoration resembling a bird's feather.
Fineness
The proportion of a precious metal in an alloy.
Florentine finish
Engraved finish applied with an engravers line graver that cuts two to twelve lines with each pass. The piece is engraved in one direction of parallel passes, then the item is turned 33 to 45 degrees and cross engraved.
Forging
Technique for shaping metal through hammering it against an anvil or stakes.
Gadroon
Decorative moulding of repetitive curving convex flutes, usually used as a border.
Graver
Steel tool with a pointed edge for engraving metal.
Hammered finish
An uneven textured finish accomplished by the use of flat or round headed hammers.
Incuse mark
The mark where the symbol or letters are stamped into the surface.
Journeyman
A silversmith who has completed his apprenticeship, but still works for an employer.
Lemel
Scrapings and filings of silver that accumulate on a silversmith's workbench.
Married metals
Soldering or fusing of two or more different metal sheets for a jigsaw-like effect.
Oxidation
Silver tarnish that adds beauty by providing shadows and highlights.
Pique
Process of inserting metal into ivory or tortoise shell to form a pattern.
Plate
Objects that have been silverplated.
Repousse
Decorative technique dependent on hammering the object from the reverse side to raise decoration on the front.
Service
Articles of same pattern, date, and maker, especially of flatware.
Soldering
Technique of joining metal parts by using a silver alloy, flux, and high heat.
Trademark
Mark consisting of a particular company's trade name or symbol.

Applique
A decoration made separately and then added to an object.
Assay
To test wrought silver to establish its purity or standard before hallmarking. A small sample of metal is removed from the object and subjected to various chemical processes.
Base metal
Any combination of alloys of non-precious metals used as the base for precious metal plating.
Bolster
The raised junction of the knife blade and tang.
Bright finish
Highly polished and reflective finish.
Candelabra
A multi-light candelabrum as a pair.
Caster
A container with a pierced cover for distributing spices, pepper, or sugar on food.
Usually cylindrical or octagonal in shape.
Cloisonne
Decoration using enamel poured into a design pre-determined by a wire outline.
Diaperwork
A pattern made up on squares or lozenges.
Electroplating
A technique of using electricity to deposit a layer of silver on base metal of an object.
Engine turned
Machine engraving used to create a rectangular, often geometric pattern.
Festoon
An ornament in the form of a chain or ribbon appearing to be attached at two or more points and with a sag between the two points.
Finial
The decorative knob found at the top of an item or on the cover.
Fluting
Decoration using parallel grooves and ridges.
Fretwork
Repetitive geometric ornamentation engraved on a border.
Gallery
Perforated setting surrounding the borders of trays, coasters, etc.
Greek key
Classic, ornamental design in the form of pattern of alternating and interlocking right angles.
Hatching
Engraving term for a series of lines applied closely together.
Ingot
A solid block of metal. The raw material of metalsmithing.
Knop
Rounded knob used as a handle or an ornament. Can also refer to the terminal of a spoon.
Loading
Term used for a method of weighting and strengthening thin silver items such as candlesticks. Resins and cement are commonly used.
Parcel gilding
Partial gilding, a technique where a varnish mask is applied to the areas of an object that should not be gilded.
Pounced
Decorative technique of treating metal surface with a dotted texture.
Reeded
Repetitive linear ornamentation of parallel or radiating lines.
Sheffield plate
Technique for plating copper with sterling silver. This method fuses sheets of copper and sterling silver together by binding and heating them.
Swage
A hollow into which sheet metal is hammered to give it form and depth.
Troy weight
Unit of weight measure used by silversmiths and intended for measuring precious metals.